Why It's Still a Sellers' Market
Posted by Kathy Congdon on Tuesday, August 9, 2022 at 9:14 AM
By Kathy Congdon / August 9, 2022
Comment
You might be wondering what that means for your intentions to sell your home as reports of the real estate market slowing down from the high frenzy it experienced during the pandemic increases. If you're considering moving, you should be aware that the market is still far from typical.
Even if there are more houses for sale this year than last, the housing market is still undersupplied. And that indicates that the current market is still in favor of sellers. This is because the quantity of available properties for sale might indicate whether buyers or sellers are in control. Consider it like this:
When there are more homes for sale than there are potential buyers, it is considered a buyers' market. When that occurs, buyers are in a stronger negotiating position since sellers are more inclined to make concessions in order to sell their home.
Contrarily, in a sellers' market, it is true. For the number of purchasers in the market, there aren't enough homes available, giving the seller complete control. In that case, purchasers will exert every effort to compete for the few available residences.
When supply is balanced and there are enough homes for sale at the current pace of sales, the market is neutral.
And because inventory has been at or near record lows for the past two years, we've been in a scorching sellers' market. This graph's blue section emphasizes how far below a neutral market inventory we still are right now.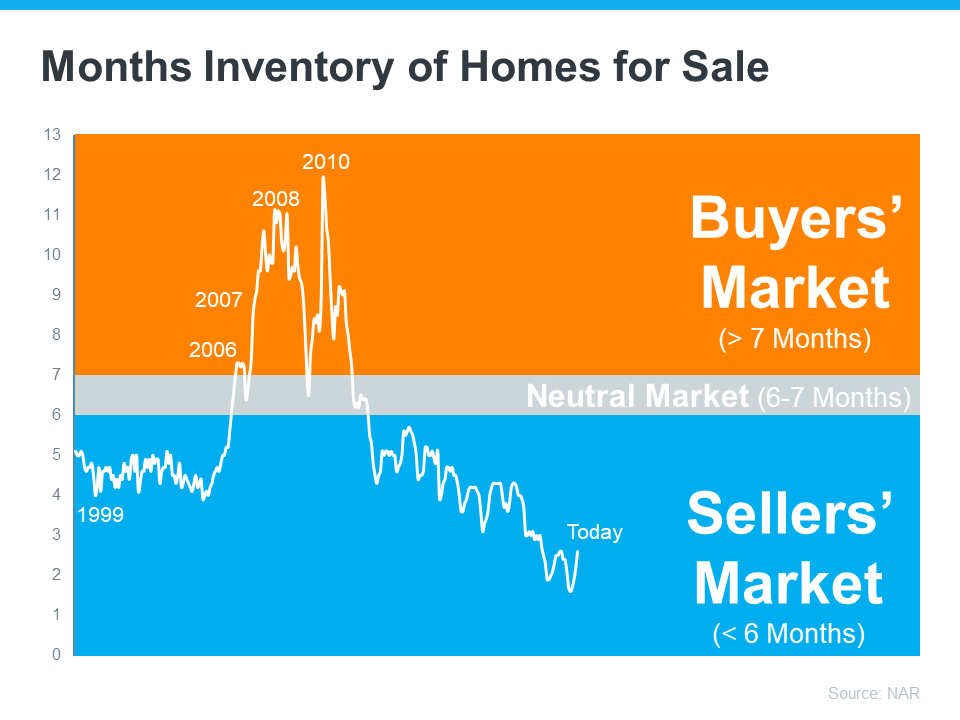 How Does This Affect You?
The housing center director at the American Enterprise Institute, Ed Pinto, provides the ideal explanation of the state of the market today:
"Overall, the best summary is that we'll move from a gangbuster sellers' market to a modest sellers' market."
Even though the market is slowing down, the situation is still favorable to you. You'll have luck selling your home today if you collaborate with an agent to set the price at market level. Despite the fact that buyer demand is waning as a result of rising mortgage rates, properly priced properties are nevertheless selling quickly. That indicates that you still have time to list your home.
To sum up
The housing market of today still benefits sellers. Let's contact if you're prepared to sell your home so you can get moving.