Why Buying or Selling a Home Helps the Economy and Your Community
Posted by Kathy Congdon on Friday, June 23, 2023 at 8:47:52 AM
By Kathy Congdon / June 23, 2023
Comment
It's crucial to understand that purchasing or selling a home affects not only you but also your neighborhood.
Every year, the National Association of Realtors (NAR) publishes a report that details the amount of economic activity that house sales contribute to. The following graph demonstrates that effect: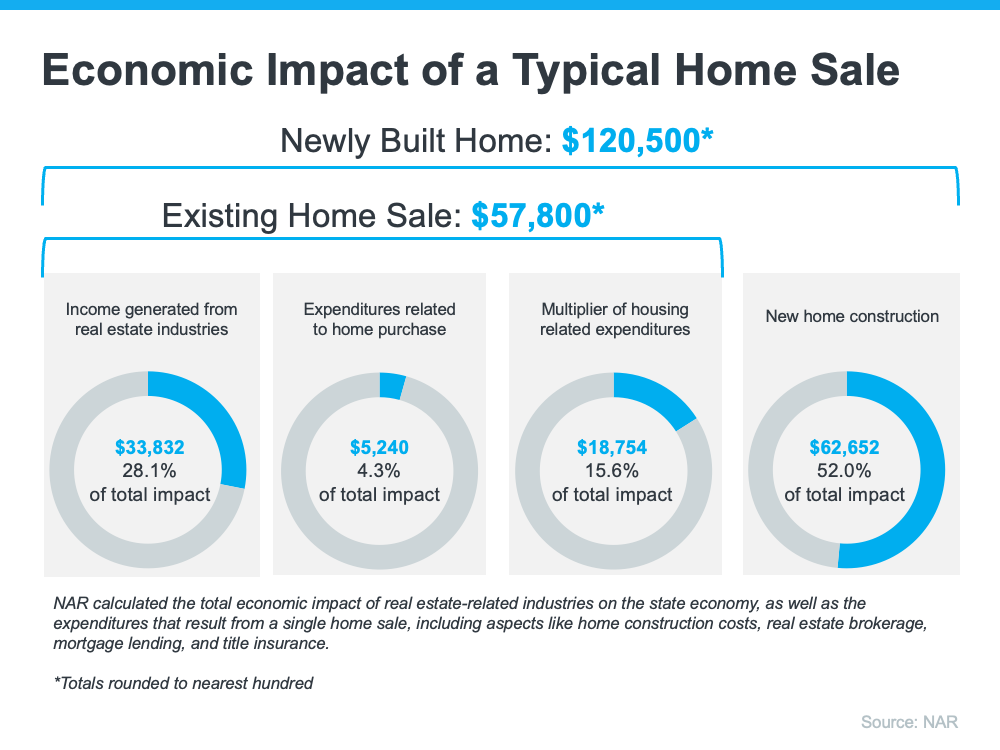 The illustration demonstrates how the sale of a home can have a significant impact on the neighborhood's economy. The impact is primarily caused by the laborers needed to construct, renovate, purchase, and sell homes. The National Association of Home Builders' (NAHB) Chief Economist, Robert Dietz, describes how the housing sector boosts employment in a community:
"The economic impact means housing is a significant job creator. In fact, for every single-family home built, enough economic activity is generated to sustain three full-time jobs for a year, per NAHB research. . . . And one job for every $100,000 in remodeling spending."
It seems sense that the housing industry contributes significantly to the creation of jobs given the diversity of the businesses involved. According to a recent Fortune article, the housing market may have a bigger impact than you may expect given all the ways it is connected to the economy:
"Housing has three direct linkages to economic activity (GDP): the construction of new homes, the remodeling of existing homes, and that of housing transactions. . . . consider the activity associated with home sales – think broker fees, lawyers, etc. – which are a sizable contributor to housing's GDP footprint."
You collaborate with a group of experts when you buy or sell a house, including builders, experts, attorneys, and local officials. Everybody contributes to the transaction in some way.

Therefore, when you make a decision in the housing market, you're not only taking care of your own needs; you're also helping the neighborhood. Knowing this can help you feel more in control when you decide what to do this year.
To sum up
Every single property sale is significant for the neighborhood economy. Let's connect if you're prepared to take action. Not only will it alter your life, but it will also have a profoundly positive impact on the entire neighborhood.