Why Buying a Home Makes More Sense Than Renting Today
Posted by Kathy Congdon on Friday, May 5, 2023 at 11:46:19 AM
By Kathy Congdon / May 5, 2023
Comment
Do you have second thoughts about buying a house this year or sticking with renting? So take this into account. Rent affordability continues to be a problem and has been for a while. This is due to the historical tendency of rising rents. Rents have been rising fairly steadily since 1988, according to Census data.
Furthermore, according to information from Realtor.com's most recent rental report, rents are still rising today, albeit more slowly than they were during the pandemic's peak:
"In March 2023, the U.S. rental market experienced single-digit growth for the eighth month in a row . . . The median asking rent was $1,732, up by $15 from last month and down by $32 from the peak but is still $354 (25.7%) higher than the same time in 2019 (pre-pandemic)."
Owning your own house may be a preferable option, especially if the long-term pattern of rents rising year continues. Currently, rents are significantly higher than they were in more normal, pre-pandemic years. For the term of their loan (usually 15–30 years), homeowners with fixed-rate mortgages can lock in a monthly mortgage payment.
If you require more space, purchasing a home might be more affordable.
The graph below compares the two choices using nationwide statistics on the median rent payment from Realtor.com and the median mortgage payment from the nationwide Association of Realtors (NAR). According to the graph, if you require two or more bedrooms, it's often more cheap to purchase a home than to rent, depending on how much space you require: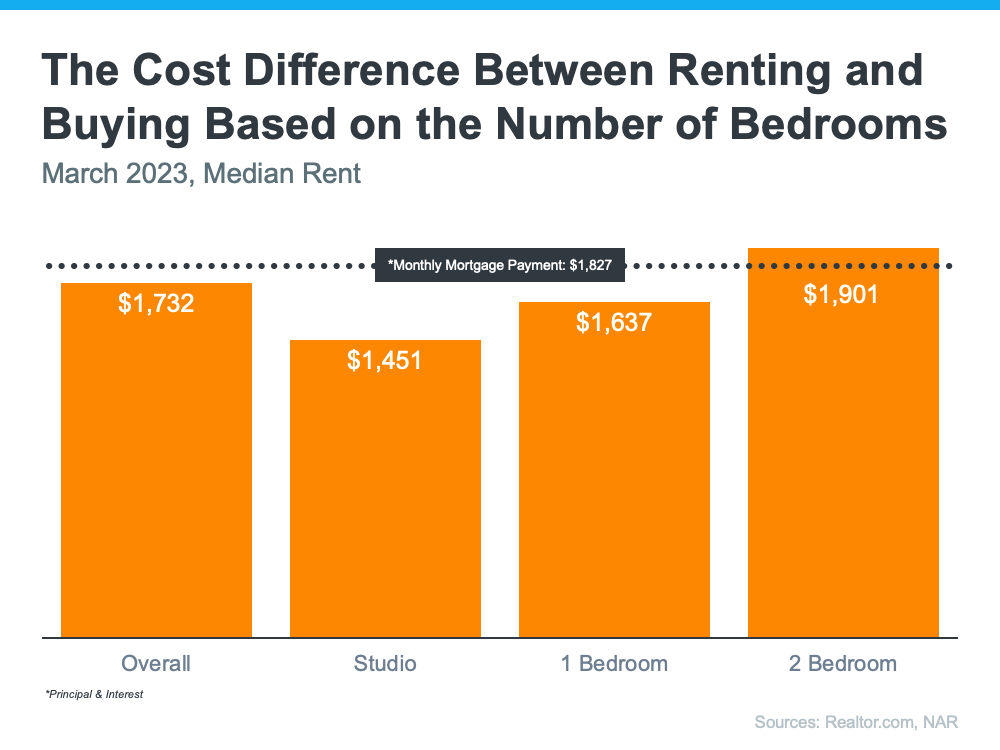 Therefore, if you're looking to move somewhere with two or more bedrooms so that your household can fit there, so that you have more space to spread out your possessions, or so that you can use the additional space for something else, practice your hobbies, it might make sense to consider homeownership.
Owning a home enables you to begin accumulating equity.
Owning a home not only protects you from rising rents and makes it more reasonable when you need extra room, but it also enables you to begin accumulating your own equity, which raises your net worth.
Additionally, you create equity as you pay off your mortgage and often see an increase in home values over time. Because you may use that equity to support a transfer to a bigger place in the future, it can position you for success. Because of this, according to Zonda, the main motivation for millennial homeowners to purchase a home in the last year was to increase their own equity rather than that of a third party.
To sum up
Let's talk about your options if you're attempting to decide whether to buy a house or keep renting. It might make more sense to pursue your dream of homeownership now that rents are rising.