Think Home Prices Are Going To Fall? Think Again
Posted by Kathy Congdon on Tuesday, July 26, 2022 at 10:08 AM
By Kathy Congdon / July 26, 2022
Comment
The rate of home price appreciation accelerated dramatically during the previous two years. Although it resulted in phenomenal equity gains for homeowners, it has also made some potential purchasers fear if home prices may decline. It's crucial to understand that strong market fundamentals are supporting the rise in property prices and that the housing market is not a bubble that is poised to explode.
It's critical to examine what led to the recent sharp increase in home prices and where analysts predict they are headed in order to comprehend why price decreases are unlikely. What you should know is as follows.
Recent Years Have Seen a Significant Rise in Home Prices
The graph below shows the increase in property prices over the previous 1.5 years using the most recent data from CoreLogic. The sharp rise in the rate of home price appreciation in 2021 is shown by the gray bars. The blue bars indicate that, while less swiftly, property prices will continue to rise in 2022: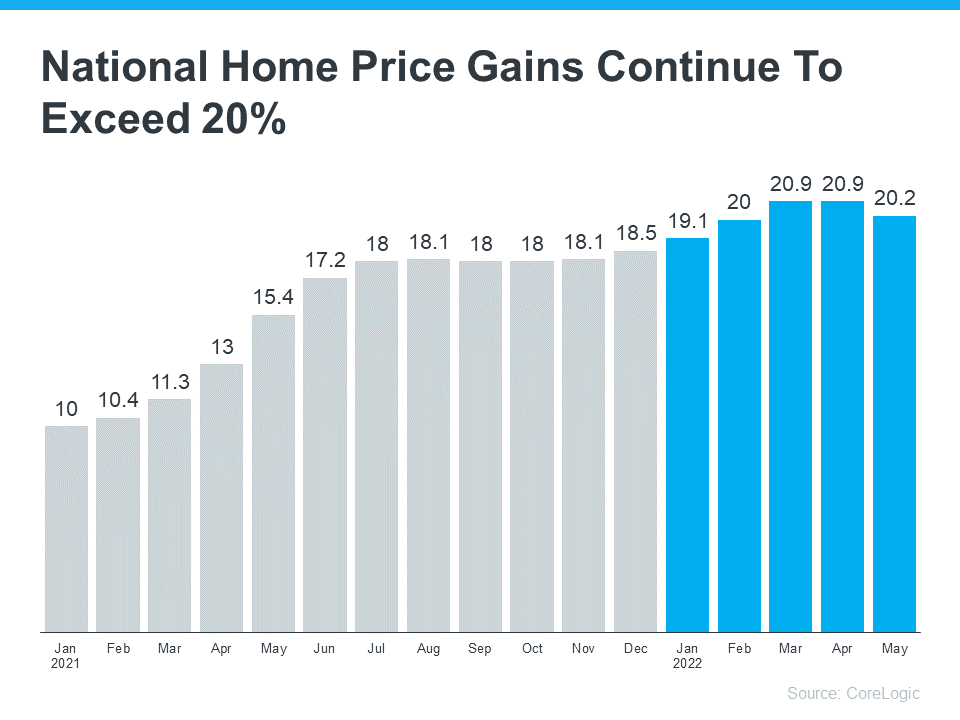 You might be wondering why home prices rose so dramatically in the previous year. The reason is that there were more buyers than there were available homes. Home prices were under pressure to rise as a result of this disparity between supply and demand, which was at an all-time low.
Where Prices Are Headed Next, Per Experts
Despite rising housing supply and falling buyer demand, there are still not enough houses on the market. This is the reason why prices on the market continue to rise. Chief economist at First American Mark Fleming provides the following explanation:
". . .we're still well below normal levels of inventory and that's why even with the pullback in demand, we still see house prices appreciating. While there is more inventory, it's still not enough."
Because of this, analysts anticipate a more moderate rate of home price growth this year, which indicates that prices will continue to rise but more slowly. This does not indicate that prices will decrease. According to CoreLogic's Deputy Chief Economist Selma Hepp:
"The current home price growth rate is unsustainable, and higher mortgage rates coupled with more inventory will lead to slower home price growth but unlikely declines in home prices."
In other words, experts predict that even with rising mortgage rates, moderated buyer demand, and more properties for sale, home price growth will sluggish but not stop.
That means that if you're thinking about buying a house, you shouldn't wait for the price to go down before doing so. Instead, by making a purchase now, you can beat out future price rises and gain from them by building up home equity.
To sum up
Because there was a greater demand than there was supply, home prices have risen recently. Experts do not anticipate a decrease in prices as a result of the market shift, just a slowing of price increase. Let's connect today to discuss the state of home prices in our region.