The Top Reasons for Selling Your House
Posted by Kathy Congdon on Tuesday, February 14, 2023 at 9:26:41 AM
By Kathy Congdon / February 14, 2023
Comment
When mortgage rates were at record-breaking lows during the epidemic, many of today's homeowners purchased or refinanced their homes. Some of those homeowners delayed moving because they didn't want to lose the low mortgage rate they currently have on their existing property after rates doubled in 2022. And although current rates have begun to decline from their peak from last year, they are still higher than they were a few years ago.
93% of mortgages still in existence today have interest rates of 6% or less. Therefore, the vast majority of mortgaged homeowners enjoy interest rates that are lower than what they would receive if they relocated immediately. However, if you're a homeowner in that situation, keep in mind that there are other factors to take into account before moving. There are several reasons you could still need or want to move besides your mortgage rate. RealTrends describes
"Sellers who don't have to move won't be moving. The most common sellers will be: Homeowners downsizing . . . people moving to get more space, [households] looking for better schools…etc."
So, if you're on the fence about selling your property, think about the additional factors that influence homeowners' decisions. The National Association of Realtors (NAR) has released a report that details the factors that led homeowners to decide to sell over the previous year: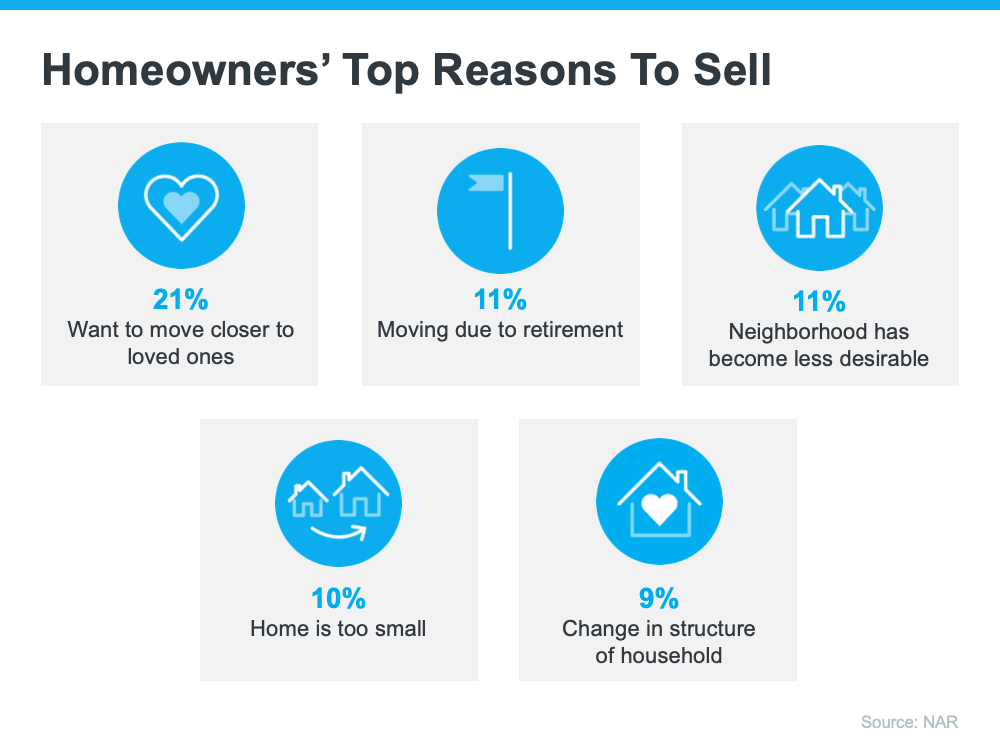 The picture depicts that the desire to be closer to loved ones, moving because of retirement, and their neighborhood becoming less appealing were the most often mentioned reasons for selling. The want for greater space as well as a modification in the make-up of the household also came into play.
It might be time to sell if you also realize that you wish to move or that you need more space than your current home can offer.
Moving can be motivated solely by what you want and need in a home. Work with a dependable real estate professional who will provide advise and knowledgeable direction throughout the process to choose what's best for you. They'll be able to outline all of your alternatives and provide you with the information you need to decide confidently.
To sum up
You have a lot to think about while selecting whether or not to move. There are several non-financial considerations to take into account.