Homebuyers Are Still More Active Than Usual
Posted by Kathy Congdon on Tuesday, August 1, 2023 at 9:37:42 AM
By Kathy Congdon / August 1, 2023
Comment
Even while the housing market is no longer experiencing the frenzy that was so prevalent in recent years, this does not indicate that the market is at a stop. Actually, buyer traffic is still high today.
The ShowingTime Showing Index measures how often buyers tour homes. The graph below uses that index to show buyer activity trends across time, which helps put today into context.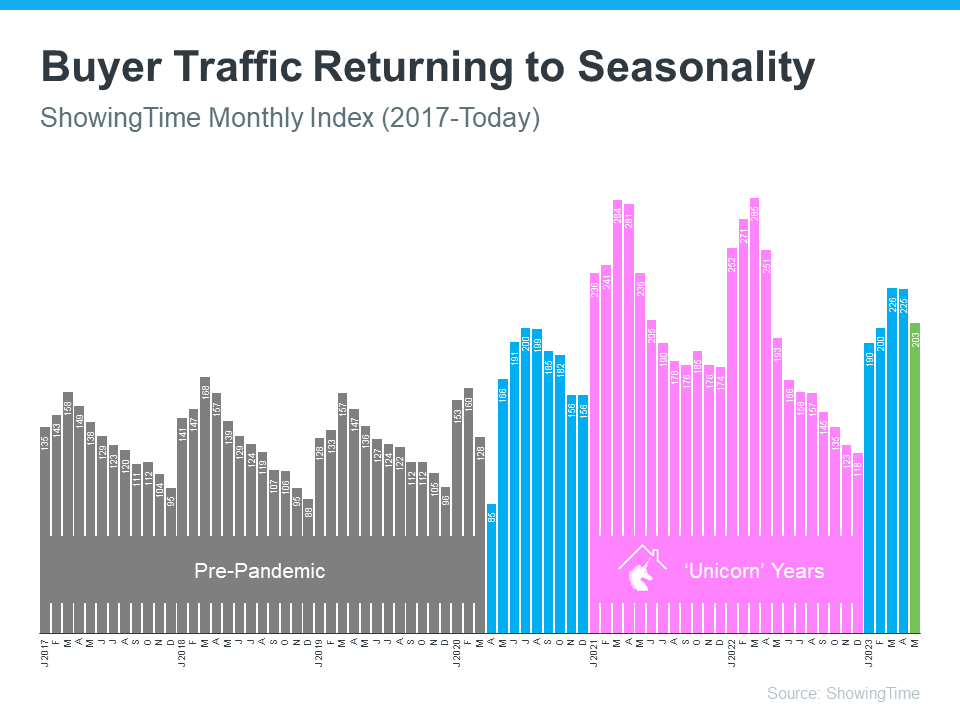 It demonstrates the seasonality of real estate. If you look at the last typical years in the market (shown in gray), you will notice a regular trend in which buyer activity peaked in the first half of each year (around the peak homebuying season in the spring) and declined as the year progressed.
When the epidemic struck in March 2020, the market responded to the resulting uncertainty (seen in blue in the middle). We then entered the 'unicorn' housing years (indicated in pink). This was a time when mortgage rates were at an all-time low and buyer demand was at an all-time high. Similar seasonal trends remained even then, albeit at considerably higher levels.
Now consider the year 2023. Traffic is down from the previous month, as well as from the peaks seen during the 'unicorn' years. But what's happening isn't a sharp reduction in demand; rather, it's a gradual return to more typical seasonality. According to the ShowingTime report:
"Showing traffic declined about 10% in May . . . This follows a typical seasonal pattern – disrupted by the pandemic but now beginning to return . . ."
Let's zoom in to emphasize that this isn't a significant reduction. Here's a graph for the last five years using only May data. It demonstrates how robust buyer demand remains.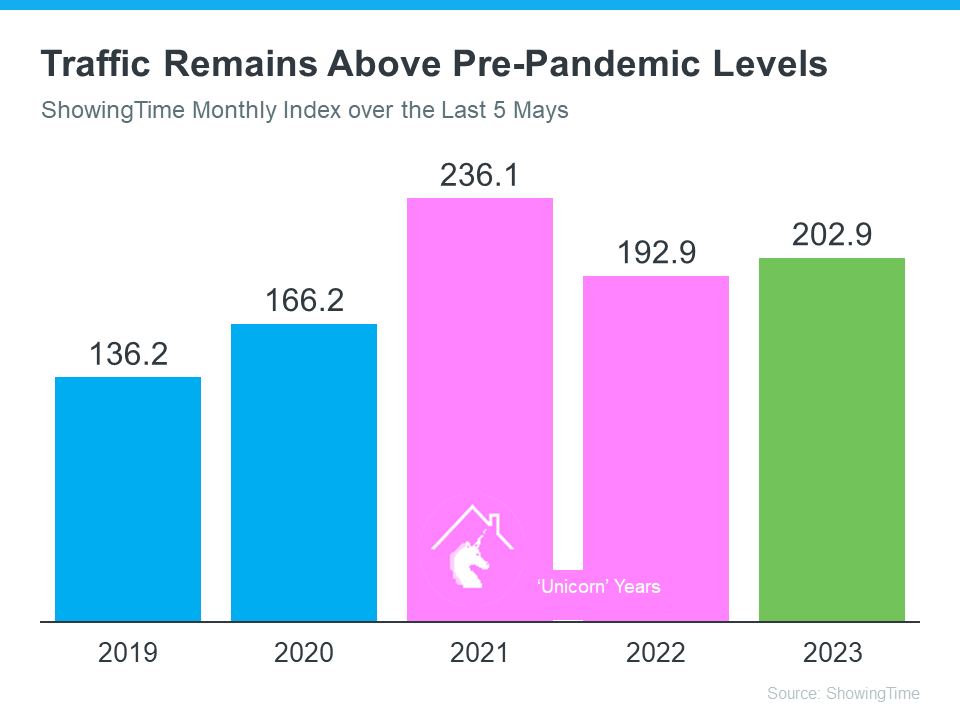 What Does This Imply for You?
Buyers are still touring properties. They're more active than they were in May 2022 (when sticker shock over higher mortgage rates kicked in), and certainly more active than they were in previous regular years. So keep in mind that buyer activity is still high. And it could be considerably greater if the limited quantity of available homes didn't limit it. According to the US. News:
"Housing markets have cooled slightly, but demand hasn't disappeared, and in many places remains strong largely due to the shortage of homes on the market."
In conclusion
Don't lose sight of how active the market is right now. If your home isn't on the market, it won't be seen by all of the buyers who are looking to buy right now. Let's connect to get started.