Home Prices Are Rebounding
Posted by Kathy Congdon on Friday, July 21, 2023 at 10:24:37 AM
By Kathy Congdon / July 21, 2023
Comment
If you've been paying attention to the news lately, you might be wondering what's going on with housing prices and whether or not the worst is yet to come. This is because today's headlines create an overly dismal picture. In a year-over-year comparison, home prices did fall slightly, but that's because we're comparing to a 'unicorn' year when prices rose far beyond the norm.
We need to look at monthly data to avoid making an unfair comparison to the preceding high. That, on the other hand, paints a totally different and far more positive story. While local home price trends differ by market, the national data tells us the following.
The figures below combine recent monthly information from three sources to show that the worst home price losses are already in the past, and prices are rising across the country.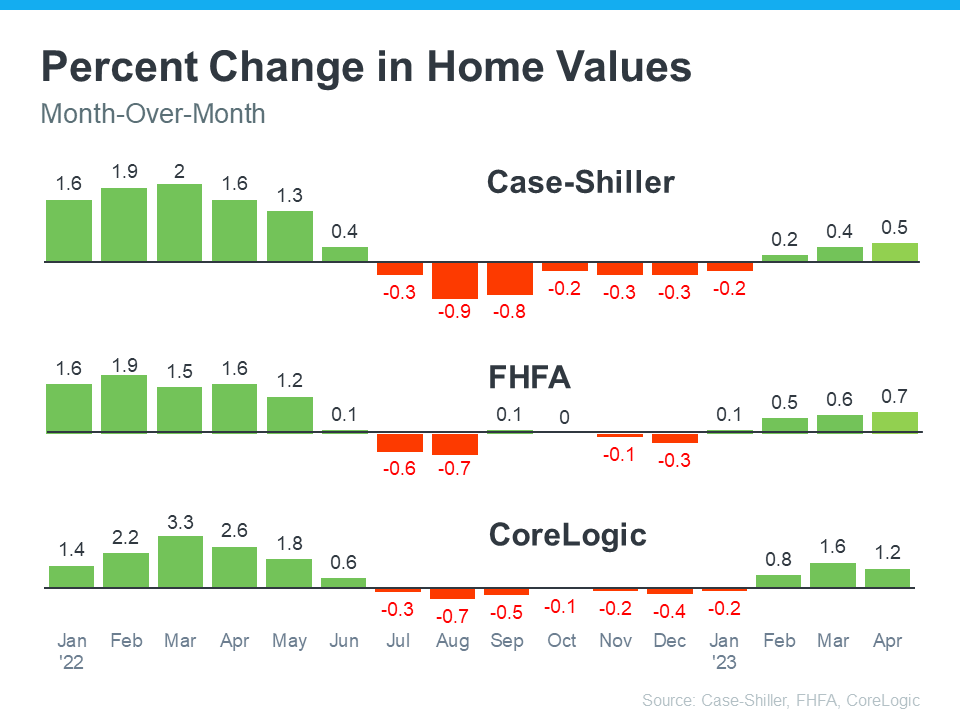 Looking at this monthly picture, we can observe that the housing market has been separated into two halves over the last year. Home prices were rapidly rising in the first half of 2022. However, beginning in July, prices began to fall (as seen in the graphs above in red). By August or September, the tendency had begun to level out. However, looking at the most current statistics for early 2023, these graphs reveal that prices are rising once more.
The fact that all three reports show that prices have been rising for three or more months in a row is a good indicator for the housing market. The month-over-month data indicates a national change is taking place: home prices are once again growing.
According to Craig J. Lazzara, Managing Director of S&P Dow Jones Indices, home price trends are as follows:
"If I were trying to make a case that the decline in home prices that began in June 2022 had definitively ended in January 2023, April's data would bolster my argument."
Experts say that one of the reasons prices did not drop as predicted is because there aren't enough available properties to accommodate the quantity of individuals who want to buy them. Even with today's low mortgage rates, there are more buyers than there are available homes.
Mark Fleming, Chief Economist at First American, explains how having more demand than supply keeps prices rising:
"History has shown that higher rates may take the steam out of rising prices, but it doesn't cause them to collapse entirely. This is especially true in today's housing market, where the demand for homes continues to outpace supply, keeping the pressure on house prices."
According to Doug Duncan, Senior Vice President and Chief Economist at Fannie Mae, home price increase is exceeding estimates due to high demand:
". . . housing prices continue to show stronger growth than what was previously expected . . . Housing's performance is a testimony to the strength of demographic-related demand . . ."..
Here's How It Will Affect You
Buyers: If you've been putting off buying because you were afraid the value of your home would fall, knowing home prices have recovered should provide some relief, as well as the opportunity to own something that typically increases in value over time.
Sellers: If you've been putting off selling your home because you're worried about how changing home prices will affect its value, it might be a good idea to work with a real estate agent to list your home. You don't have to wait any longer because the latest data indicates things are turning in your favor.
In conclusion
If you put off moving because you were worried about home prices falling, the newest data shows that the worst is already behind us, and prices are rising nationally. Let's get in touch so you know what's going on with property prices in our area.